A Dedicated Accountant and Children's Book Author
Accountant (1997)
F. Michael Lynch CPA, MST Tax Services
Controller (10/1999-7/2006)
Project Rehab, Inc.
Staff Accountant (9/1997-10/1999)
McAndrews Accounting Service, Inc.
Experienced with the following software:
QuickBooks Pro Advisor (since 2006)
Member of the Michigan Association of
Certified Public Accountants
Master of Science in Taxation (2005)
Grand Valley State University (1996)
Michigan State University (1992)
In addition to my career of providing accounting services, I also enjoy golfing and writing children's books. My books are a reflection of things I experienced as a child and also things that my siblings have experienced now that they are parents. Both of my books are available to look at in my office, or you can view them online.
"I Will Always Need You" describes a special moment that occurred between my brother and his son.
"I Don't Want To Share A Bedroom" makes light of the living situation I had as a child with my younger brother.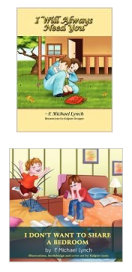 "I appreciated the low fee and his knowledge. He answered all my questions and electronic filing was included. "
Jeff and Kerri D.
"Mike's price is a lot cheaper than my former tax person that I was using for over 20 years. Love his electronic filing, too! "
Rochelle M.
"Eleven years and counting, I've never had a problem. I can trust Mike will do it right."
Kris H.